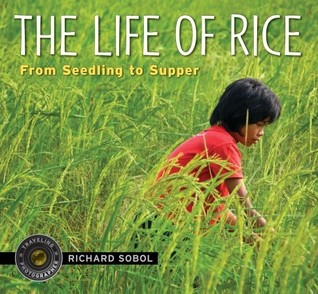 Follow a photographer to Thailand as he documents the life of rice—from planting ceremony to eating—in a compelling narrative with vivid color images.Rice is one of the most abundant and widely grown crops in the world today. In Thailand, rice is grown everywhere—and it is almost always a part of every meal. Photographer Richard Sobol invites us on a journey to Thailand toFollow a photographer to Thailand as he documents the life of rice—from planting ceremony to eating—in a compelling narrative with vivid color images.Rice is one of the most abundant and widely grown crops in the world today. In Thailand, rice is grown everywhere—and it is almost always a part of every meal. Photographer Richard Sobol invites us on a journey to Thailand to explore the life of rice: from the beginning of the growing season at the Royal Plowing Ceremony, to the hard work of transplanting and harvesting the rice plants, and finally ending with a delicious dinner—of rice, of course! Illustrated with beautiful photographs of the farmers and rice fields of Thailand, this is a firsthand account of one of the world's most valuable and important crops....
| | | |
| --- | --- | --- |
| Title | : | The Life of Rice: From Seedling to Supper |
| Author | : | |
| Rating | : | |
| ISBN | : | 9780763632526 |
| Format Type | : | Hardcover |
| Number of Pages | : | 40 Pages |
| Status | : | Available For Download |
| Last checked | : | 21 Minutes ago! |
---
The Life of Rice: From Seedling to Supper Reviews
The Life of Rice is a shining example of attractive, intriguing, and educational narrative nonfiction. Sobol's introduction clearly tells the reader how he was inspired to write about rice, and it sets the tone for his enthusiastic story of something so common and yet so vital to the Thai people.His story begins with his receiving an ornate letter written in Thai. He hops on his bike and races to the local Thai restaurant to get the owner to translate. It turns out that it's an official invitation from the king of Thailand to the Royal Plowing Ceremony, an event that kicks off the annual Thai National Celebration of Rice. With only a small glitch, he makes it to the ceremony and subsequently spends time in the Issan Province, learning about the rice and the families who rely on it.His crisp, colorful, artistic photographs grace each page and appropriately support the text on the page. We see on page ten the photograph he snapped on an unrelated trip to Thailand that sparked his curiosity about the rice paddies and rice growers. He describes how the textures of the field and the colors of the farmer's clothing captivated him, and the photo is striking in its simplicity, yet it captures the vibrant greens of the field, the bright yellow farmer's shirt.Sobol tells his story in a fluid and at times almost playful tone, and one can almost imagine being there. Of the children playing in the paddies: "… the children usually just plop in barefoot, sinking slowly into the thick, deep mud. When they pull their feet up, the mud burps at them with a sucking sound and they break into squeals of laughter."Supplemental materials are a map to show where the events took place, a page of rice facts, a glossary of Thai and English words and phrases, a list of rice holidays, and the names of some common Thai rice dishes.The Life of Rice is a wonderful resource for introducing children ages 8 and up not just to agriculture in Thailand but also to the culture and lifestyle of the Thai people.

Reason for Reading: I was so impressed with Sobol's photography and writing style when reading his newest book "The Mysteries of Angkor Wat" that I decided to read his entire backlist with my son and discuss the life of a photographer/photojournalist as a career option while doing so.The author had previously been to Thailand on assignments but this time he received an official invitation to the "Royal Plowing Ceremony" from the King of Thailand and decided that while there on his own time, for a change, he would spend it on photographing the lush rice fields, which he had found fascinating on previous trips, and the role rice has on Thai society. We learn just how ingrained rice is in Thai culture as virtually all their holidays are centered around rice, it's bi products and it's growing/harvesting seasons. Rice is grown everywhere there is flat land including people's own backyards. We learn how the rich farmer will use extravagant machinery in his work while the average farmer uses the same techniques that have been used for thousands of years. Groups of neighbours get together and work each others paddies one after another to share the work and make the rice a community thing. Rice is the staple food of Thai people, paddies cover the countryside and festivals are frequent reminders of this staple of their life.Richard Sobol has told a fascinating story as he travels the country, stopping to help work in the paddy, going to festivals and showing the daily life of small children as they accompany their families through all stages of the rice farmer from planting seeds to taking the 100 pound bags of rice to the mill where they are paid. Fantastic photography and a storytelling narrative brings this most abundant world-wide crop to life, shows us the people behind the food and the how a crop can be so essential to a country's way of life. Beautiful book!

With engaging, colorful photographs and accessible text, Richard Sobol shows how important rice is to the entire culture of modern Thailand. Like Sobol's Breakfast in the Rain Forest (Candlewick,2008), also in the Traveling Photographer series, this volume offers a first-person account of Sobol's travels as he explores the cultural and economic role that rice plays in Thailand today. Sobol's approach is to tell a personal story, introducing readers to the subject as he encountered it himself. Sobol was invited to attend the Royal Plowing Ceremony, marking the beginning of Thailand's rice-cultivation season. Sobol quickly learns that "for the Thai people, their calendar, holidays, and school vacations all reflect the seasons and cycles of rice growing." After attending the formal royal ceremony, Sobol traveled to the rice fields in the province of Issan, in northeastern Thailand. In this province often called the Rice Bowl of Thailand, Sobol photographed farmers and their families using traditional and modern techniques to plant, nurture, transplant and harvest rice. Sobol's personal approach brings young readers into the lives of modern Thai people, showing us "how many hands worked together to grow" this important food staple.

This is the story of how they celebrate rice in Thailand. It did not provide as much information about how rice grows, but instead how the villages prepare rice for harvest and sowing. Information such as where the seeds come from and how they are chosen is not available. I wanted to see a close up of the rice as it goes from stalk to mill, but there weren't very many close ups. I also wanted to how rice came to be. Similar to what Richard Sobol wrote about in his other book,The Story of Silk: From Worm Spit to Woven Scarves. It was still an interesting read. If anything, one should read it because it is part of the Traveling Photographer series.

Rice is a staple in Thailand and recognized as a great blessing. The is a professional photographer who was inspired by a visit to Thailand and decided to chronicle the "life of rice." The photographs are stunning and the information interesting enough. However, I put the book down one night and was not inspired enough to pick it back up.

A photojournalism picture book explaining the importance of rice to the economy and culture in Thailand. Beautiful photographs and accessible writing makes this book wonderful for classroom usage. Especially for a World Food day!

Age: 9-12 yearsMedia: photography from artist whose work appeared in National Geographic and Time Sobol shares his experience photographing the rice planting holiday in Tailand and explains how rice is grown, harvested, and enjoyed.

A love letter to rice and Thailand. Interesting glimpse into the work of the photographer and rice farmers.

Delightful. This book was exactly what I needed as I begin a new year committed to eating mindfully.